Let Hamptons Web Design create and manage one or more of your vital Online Services.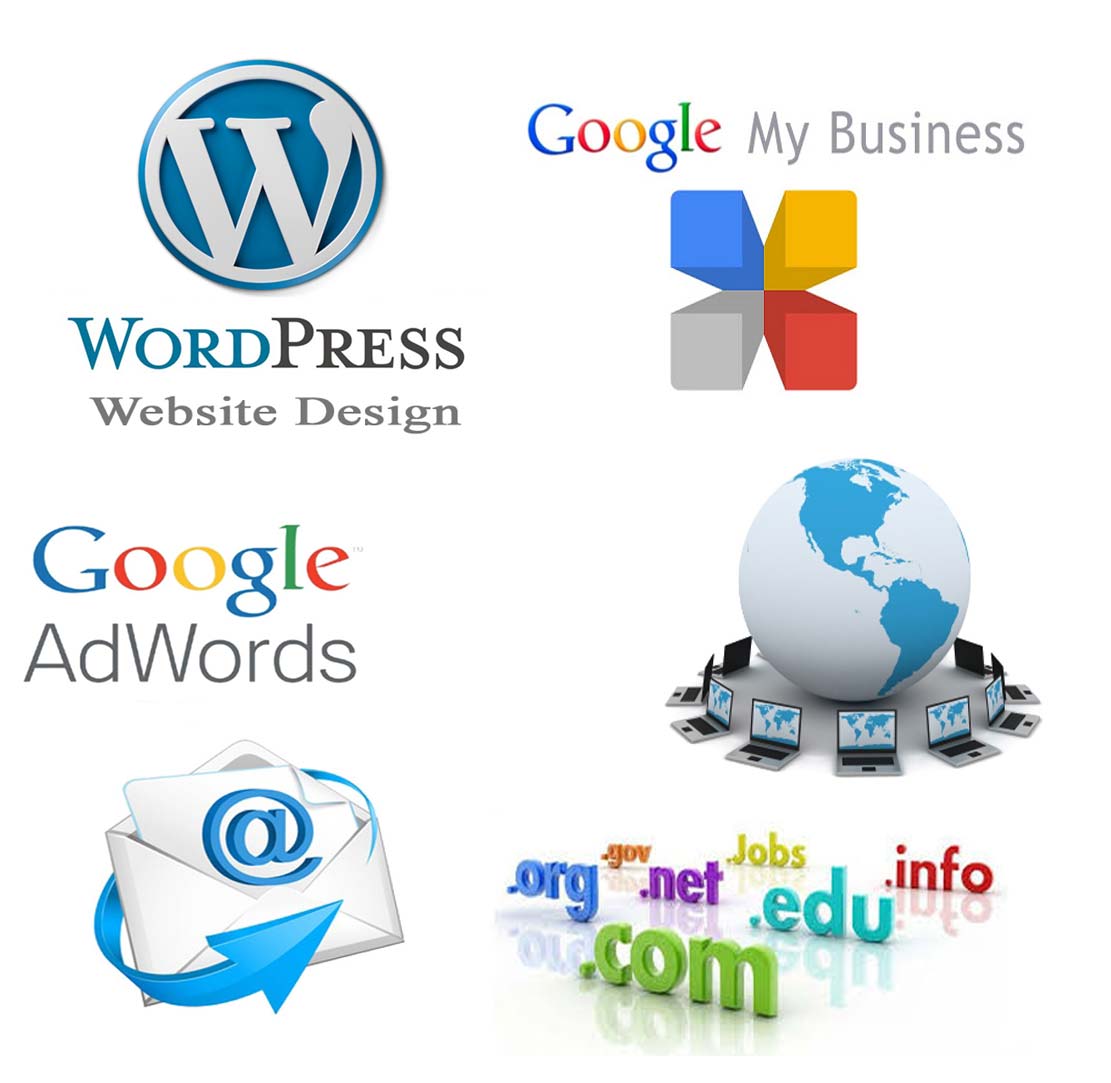 Hamptons Web Design offers flexibility, with the option to have a fully integrated website, and also the ability to have us manage one or more services for you. Management in one place ensures they are working properly, and we can troubleshoot any issues that may arise, with one call.
If any of these services stop working, know exactly where they are managed, and we will help you.
In today's online environment, those who want to pursue a quality website and Internet Presence need numerous services, and Hamptons Web Design can organize, manage and support them under one roof.
You can add or remove services, and your Fixed Monthly Pricing Plan is adjusted. Because it's all set up on a monthly basis, there are no long-term contracts - Just great service.
Read our Google My Business Page Reviews to hear what clients say about us.
You can read all about our many services in the descriptions below.
Services HWD can Expertly Manage for Your Business
For over 20 years, Hamptons Web Design has specialized in providing expert Website Design, Redesign, eCommerce Storefront Designs to 100's of local small businesses. 
Our Mobile-Friendly Responsive WordPress Websites work on all devices, offers Self-Management, with 100% personalized phone and email support.
Our WordPress Package offers a Custom Design that is expandable, as WordPress offers over 50,000 Plugins that can create all kinds of features - from full storefronts to forms - add more pages, galleries, a Blog, and so much more. Start small, on the right foundation and expand as you need. 
Learn more about our Design Services & Features
View our WordPress Design Portfolio
What is Google Advertising (AdWords)?

Google AdWords is Google's online advertising product that can help you attract new customers to your website and grow your business. Hamptons Web Design will create the ads for your business and Google AdWords displays them to people searching for products or services like yours at the exact moment they're looking for them.
AdWords can be a valuable marketing tool if you're interested in any of the following:
Attract more customers to your website

AdWords displays your ads on top and next to Google's search results, as well as on websites featuring related content to your products or services.
Gain more customers in a specific geographic area
If you want to build a customer base in a specific geographic area, AdWords can target your ads to potential customers in specific countries, states, cities or local areas. That means your ads will only appear to potential customers in the geographic area we specify.
Attract customers via mobile devices
Millions of people access the Internet from their mobile devices to research products and services and search for local businesses. AdWords can show your ads on mobile devices and even allow potential customers to click on the phone number in your ad to call you directly.
Flexible marketing costs with control
With AdWords we are able to manage and control your marketing costs by setting a fixed budget or modify as needed.
Gaining insight into marketing results
With AdWords we know exactly how many people saw your ad and how many clicked on it to visit your website. HWD provides reports, and consultations when you need them. We can also see how the market changes, to offer your even more traffic - you can opt to stay where you are, or increase your Google Budget to pursue more traffic.
A consultation is required to see if Google AdWords Advertising may be right for your business. Starting costs for this high-end advertising can be as low as $500 per month, with testing available. You can pursue more traffic Google Deems available to you, at any time by increasing this budget. Note that the above budget includes HWD's Management fee.
For those seeking a lower cost solution please read about Google My Business Pages above.
Learn more - set up a free consolation by filling in the Quote Form below.
Make the most of your Google My Business Page listing.
Your Google My Business Page is extremely important in today's new online search process - especially in Google, the dominant search engine today. 
When local area searches are done for what you offer, or your actual business name, Google My Business results show up at the top of the page under ads, and above free search results. For some searches a large display is created to the right of the search results. Google determines this placement.
Google My Business Pages target Local Searches. 
You can also ask your clients to post reviews, so new prospects read these endorsements, building trust, which can help motivate them to call you. Because these reviews are on Your Google Business Page, it is more legit than anything you put on your site, as they must go through Google, to place the review. You can respond to reviews to build loyalty, and add photos to highlight what makes your business special. 
Hamptons Web Design can create a new Google My Business Page, or claim one that was made automatically by Google from Maps, or pursue moving it if someone set it up and you're not even sure who that was, and host your account for the future. We can forward statistics to you when Google Sends them usually monthly.  We can also update information, add new photos or text you may want to send to us.
Let Hamptons Web Design locate or set up your Page, update, improve and expertly manage it for you year-round - so you can just enjoy the responses you may get from it.
Consider having Hamptons Web Design host your website for you - all hosting is not the same.. We have over 20 years of experience hosting local business sites with a powerful, organized and high-quality infrastructure that includes full support, numerous backups and much more. 
Hosting is a Major and Direct influence on how Google ranks and scores your Website Presence and is THE most important service other than the Design of your Site. 
Hamptons Web Design has been hosting East End Business Websites for 20 years, and has evolved its service to include all of the necessary and important features. Google requires that once someone opens your website from any search, that it is "USER-FRIENDLY". Slow sites, or pages, or even some images, are the direct result of slow servers. This one error can cost you your rank.. 
Our hosting system offers:
24/7 Human Monitoring of the system, and your website.
High-Speed State-of-the-Art Servers. Highest Bandwidth available today which relates to speed of the site opening and SEO.
Mini-Server Environments for any WordPress Website - encapsulates your website so if a virus or hack attempt occurs in one site, it is very difficult to access yours - opposed to shared servers where everything is available found on cheap services.
Servers are never crowded.
Your website and data is backed up daily, weekly, and monthly to 2 locations OFF site.
Raid Servers - double hard drives & mirror images switch if one crashes.
No bandwidth limits for normal site traffic - 1000's of visits a day are not a problem.
Anti-Virus, Anti-Hacking, CPU Monitoring (speed of server on a 10 minute basis).All of Hamptons Web Design's software is integrated, highly secure and owned by Hamptons Web Design. We insure that it works for your business.
Google Compliant. Many of our client's listings appear on Google's first page for free searches. This means that Google ranks our servers as very high quality, which improves our client's website quality score.
Any issues with hosting that arise with your website, Hamptons Web Design corrects it.
Personal Phone and Email Support for Hosting, and use of the Website Manager Admin including instruction.

FEES

There is one set fee for hosting and support - this means if anything happens to your site due to our servers, we fix it without cost to you. Hosting is month-to-month so you can cancel at anytime. 
Our WordPress Website Designs can be done as presentation sites, or expanded offering full eCommerce to sell digital and/or retail products online. 
WordPress offers the best storefront software available today with an abundance of features - keeping it simple, or growing to a complex store.
Email today is our main form of communication in business. You should have confidence that your emails will be received reliably & that support is available. When issues arise, it can be difficult to get help - not with Hampton Web Design's system - we address any issue immediately. 
Your Email Address is also your businesses identity, a large part of your "brand" and should correspond with your company name. More people will see your domain IN your email than on your website. So it makes sense that you always brand your domain, which should mirror your business name.
EXAMPLE
Company Domain Name is HamptonsWebDesign.com
EMAIL ADDRESS SHOULD INCLUDE THAT DOMAIN NAME
[email protected]  
NOT  
[email protected]
Or other email address that is not FULLY Your Domain!
Do not Brand FreeMail.com - focus on YOUR business name and continually Brand it in people's mind.
PRIVACY & SUPPORT
Many popular and free services keep a copy of every email you send to customers and that they send you – forever! This is a breach of your business privacy. They serve ads and clutter your page and often have poor or no support. Our service is 100% private and is very high-quality built for business. Every account is monitored 24/7 by human beings on special email servers that only work to deliver and receive email. When there is an issue, it is addressed immediately without any additional fees.
HERE ARE MORE REASONS AND FEATURES TO SWITCH TO OUR EMAIL SYSTEM:
Spam & Virus Protection.
Ad-Free and Privacy Guaranteed.
Support by phone or email.  
Direct Access to Personal Phone Set up & Troubleshooting.
25 GB Mailboxes - No need to delete.  
100 GB Mailboxes - available an additional fee.
50 MB Attachments.
Secure Encryption.
Backups.
MS Exchange Email Accounts Available.
CHECK YOUR EMAIL 3 DIFFERENT WAYS
On Your Desktop.
On the Internet.
On Your Cell Phone.
I-mapping - Send from your phone it also appears on your Desktop or Laptop & Vice Versa.
Domain Names are the core of your entire online presence - if you lose it, your site and email go down and getting it back is often impossible.
We hear people losing domains because they forget to renew them, or are auto-renew and your credit card expires - most large companies will not call, or hold your domain for a week - and one day you wake up and your website is offline, and your email is not working.
We hear this every month and is why we created our Domain Management Service over 15 years ago. Domain name management services at Hamptons Web Design enable you to have a Domain Name without the task of maintaining it yourself.
Domain Names run your online business - from Email Addresses associated with them, to your website and everything associated with it.
There are numerous extensions - .net, .org, and others - some of these should be owned by you so another party cannot buy them and put a site up on them. To get them to stop, even if you're business name is Trademarked, is expensive and frustrating. The least expensive way to insure no other business can obtain YOUR business name is to be sure YOU own it. We can consult and help you with determining the best strategy to protect your brand.
DOMAIN NAME MANAGEMENT INCLUDES:
Research and suggestions for available domains.
Registering them for you, insuring you own the domain.
Watching the Domain Name to insure it's safe, and protected all year long, every year.
Renewing it yearly.
Managing what the domain does for you. 
Control DNS (Domain Name Server) Configurations so your website and emails work smoothly.
Address any issues that arise at no additional cost. 
Reliable, Friendly, Expert Service & Support.
Fixed Monthly Pricing
for the number of services
you have us Managing for you.
No long-term contracts
No termination fees
100% PHONE Support
Prompt Return Calls
Personalized Service
Expert Results
Consults when needed.
Emergencies - 24/7
 General Business Hours:
Monday-Friday 10am-4pm
Saturday & Sunday Off
Appts. after hours available.
Our Pricing is for Lasting Client Relationships.
Are You Spending Too Much For Services You Don't Need?
HWD has found that clients have services they're paying for with other companies, but are not clear on what they actually do for their business. HWD can help you organize this for you, reviewing the services you have, explain what you're paying for, and offer advice and options. HWD can create a Services and Marketing Package for you.  Our Design and Marketing Fees are less expensive than most charge. When we speak with you and evaluate your needs, we will give you our best fixed price.
Create and Manange your vital services with peace of mind.