Clients We've Helped Over the Years
631 Ice Melt 
A Victorian on the Bay
AEC Engineering
Agawam Realty
Agawam Town Village Realty
AgeFocus 
Airport Transportation
Alex Dzieman Builder 
Alex Khachaturian Contractor 
All Hampton Management 
All Hamptons Storage 
Amagansett Square Salon
Amy Lau Design 
Ananda Yoga & Wellness Center 
Anne Sherry Architect
APJ Construction 
Astor Courts LLC 
Atlantic Collarbortive 
Batrodz
Bay Burger 
Beautiful Food by Stacie 
Bellringer Security, Inc. 
Big Blue Pools
Bill Fox Grounds
Bill Pirnak Photography 
Bistrian Materials
Black Dog Builders
Blue Highway Link
Boris Riskin - Author 
Bridgehampton Fire District 
Bryan Downey Restorations
Buddha Luv
Buddha Luv
Bull Dog Studios
Capt. Ron's Fishing
Car Hampton Detailing 
CarHamptonDetailing.com
Carolyn Marks Blackwood
Casa Del Sol Kitchen & Bath 
Casey Art 
CD Baby Login
Cedar Cove Construction 
Cedar Point Productions
Chiffert Architectural Engineering 
Christopher Jordan Contracting 
Claudios Painting 
Corwiths Auto Body
Costa Rica World Real Estate 
Creative Craftsman Inc. 
CRM Design
Cynthia Battaglia Catering
Dan Leach Custom Contractor 
Dan Steiger Gardens 
Dan Tooker Buildler 
Data Track GTS 
David H. Sherwood Architect
David J Rivkind Landscaping 
David Tosher Design
Deborah Palmer Fine Art 
Dedendum Group
Dee Ann Design
Deerfield Millwork 
Deesen's Catering 
Dick Stone Art 
Dog Town
Don Saco Art
Dove Sailing Charters 
Dr. George P Dempsey, MD 
Dr. Glenn Seifert 
Dr. Ricca
Dr. Rick Hall 
Dreesen's Catering
DSK Architecture
Dunn Development Corp. 
East Bay Builders
East Coast Custom Cars
East End Audio Video
East End Audio Video Inc
East End Awning, LLC
East End Building Company
East End Carpentry
East End Classic Boat Society 
East End Garden Design 
East End Pain Center 
East End Spa Service 
East Hampton Electric 
East Hampton Trustees
East Hampton Village 
Eastbay Builders, Inc 
Eastern LI Surgery 
Eden Memorial Funerals 
EE Classic Boat Society
EGS Architecture
EH Electric
ELIYA Yacht Club 
Ellies Country Delights 
Eric Messin Design Studio 
Evergreen Tree And Landscape
Extraordinary Real Estate 
Ferncliff Farm
Frank Patti Funeral Services 
Fullam Enterprises, Inc. 
Furniture Garden 
Gallery B 
Garden Street Music
Garden Treasure Nursery 
Geoffrey Nimmer Landscapes
Graham Godsall Captain
Greenergy Homes
Greg D'Angelo Construction 
Grenning Gallery 
Griffith's Carpet Cleaning
Guy Parisi Law 
Hampton Access
Hampton at Home Service 
Hampton Broker 
Hampton Event
Hampton Greenskeeper
Hampton Photo Arts
Hampton Rental 
Hamptons Connection Tours 
Hamptons East Landscaping 
Hamptons Green Roof
Hamptons Hot Yoga
Hamptons L&A 
Hamptons Lawn 
Hamptons RMR
Hamptons United Soccer 
HB Interiors 
Hedges & Gardens 
Herstory Writers Workshop
Home Inspections of the EE 
Honor Flight Long Island
Hopson Hills Golf Course 
Horizons Landscape Design
HOTauk Yoga
Hutchison Landscaping 
Illuminations by Sean
Immaculate Swimming Pools
Import Liquidators 
Infinity Landscape 
Island Boat Yard 
Jack Curto Builder
Jack Hayes Pilates 
Jackie Lowey Consulting 
Jacob Hamilton Gardens
Jaime Ostrow Designs, LLC 
Jamo Design 
Jay Bialsky Construction 
Jerry Schwabe Art 
Jessica Reijnders Photography 
John Christopher RE
John D. Rose Architect 
John Laffey Architects
Judith Desiree
Judith Desiree Skin Therapie
Kammerer Contracting 
Katherine R. McCrosson RE
Keystone Financial
Kitchen Fair, Inc. 
L.W. Winslow Painting, Inc. 
Larry J. Koncelik Builder Inc.
Larry Koncelik Real Estate 
Lee Architecture 
Lennegan and Marrant 
Little Switzerland Dolls 
Long Island Artists Community
LSM Development Corp. 
LW Winslow Painting
Main Stay B & B 
Majestic Waters Pool & Spa 
Mannix Custom Builders 
Marion Williams Therapy
Martin Mahar Contracting 
McLauchlen Appraisals 
MDM Development
Melinda Camber Porter Art 
Mex Lux Resort 
Mica Diamond Life Coaching 
Michael Frank Building 
Michael Minis Consulting 
Michael O'Rourke Construction 
Michael Weiskopf Music 
Michele Mott Art 
Milk Pail Farm Stand
Mill Hill Road RE
Mill House Inn 
Mill Pond Painting
Montauk Landscaping
Morley PM Agency Inc 
Morley RE Agency Inc
Mullen & McCaffrey 
Nancy Richardson 
Neil Wienfield 
North Fork Water Supply
North Haven Manor Association
Northaven Manor Assoc
O'Donoghue Associates 
Olmax Construction
One Ocean Yoga Center
Open Minded Organics 
OPH Construction
O'Rourke Construction
Osprey's Dominion Vineyards 
Our Lady of Fatima 
Paul Calabro Photography 
Paul Consiglio Contracting 
Paul Federico 
Paul Kelloff Construction. 
Peconic Home Inspections 
Peconic River Yoga 
Peter Cook Architect 
Peter Lipman-Wulf Art 
Pooltastic 
Power Slide Motor Sports 
Priced Right Pet Supplies 
Primeline Modular Homes 
Ralph Schiano Real Estate 
Raven Restoration 
Renovations Plus 
Resist Not Evil 
Rhett Landscape 
Ripit Ripit Shredit
Rist Builders Inc. 
Rockfish Custom Builders 
Sag Harbor Pool Company 
Sag Harbor Veterinary Clinic 
Sag Harbor Village
Samantha Smith
Sau-Sea Foods, Inc. 
Save Sag Harbor 
SBS Building
Scott Fenelon Builder 
Seifert Eyes & Associates 
Sen Restaurant
Sensoryphile 
SGF Acupuncture
Shawn Leonard Architect 
SHD Management 
Sheila Delaney Design 
Shelter Island Pilates 
Simply Organized Solutions
Solomon's Construction
South Fork Natural History Mus.
South Thrifty Drugs 
Southampton Building Services
Southampton Little League, Inc.
Southampton Village Motel 
Stelle Architects
Stephanie Reit Art 
Stonehenge East 
Storms in Sculpture 
Strategic Advisory Group 
Studio 89 Fitness 
Suburban Sanitation
SunRay Aircond & Plumbing 
T.H.B. Painting & Decorating 
Terry Contracting, Inc. 
The Feathered Nest 
The Furniture Garden 
The Gallery B 
The Guitar Studio of EH 
The Hydrant Hotel
The Irony 
The Island Boat Yard 
The Organized Solutions 
The Residences Of
The Seafood Shop
The Seafood Shop Catering 
Thomas Fantini Builder
Thomas Lattieri Construction
Toby Rabiner Art
Tom Fatini TEF Consulting
Torkelsen Builders 
Tracy Palmer Yoga 
Triangle Home Studio
Triple S. Roofing
Tuths Landscaping 
Two Cousins Fish Market 
Universal Pest Control 
Washington Memorial Park 
Water Mill Lumber
Wein - Funeral Homes
Well Connected Property Mgmt. 
White Fences Inn B & B 
Wien Funeral Home
Winet Communications 
Witty and Gazda Cconstruction
Xavier Salon
Ytono Surf 
Zappola & Associates Inc.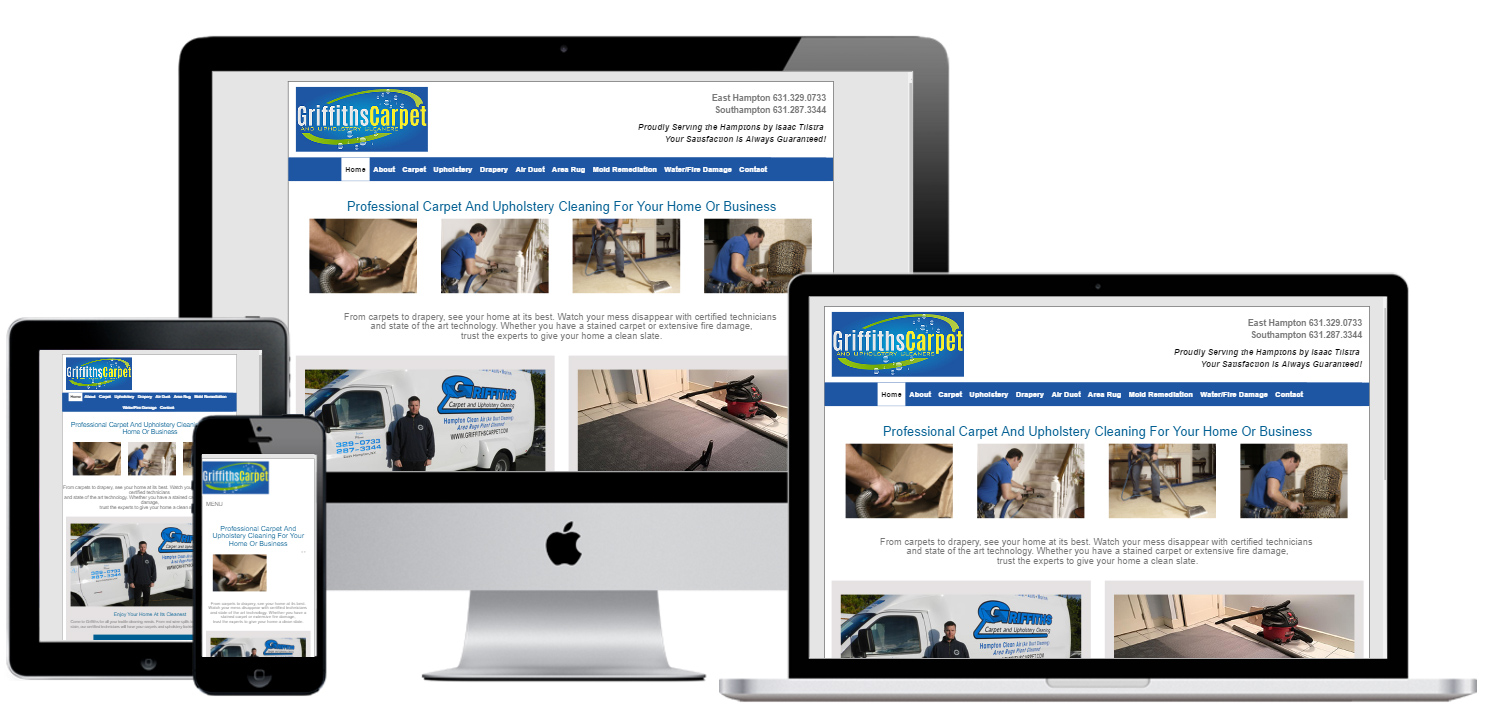 Griffith's Carpet & Upholstery Cleaning
Griffith's Carpet & Upholstery Cleaning came to HWD with a non-responsive site, which we converted to Responsive. Additionally, we set them up with a new Google AdWords Campaign and Local Search Optimization. Our Multi-Services Marketing System helps his potential customers find and meet their individual needs, for Cleaning as well as Water Damage, Mold, and other services. HWD was able to provide these services, and reduce costs, while increasing exposure. 
View The Website
Services HWD Provided
Conversion to Responsive Design
Hi-End Hosting & Support
Self-Management
Search Engine Optimization
Google AdWords Advertising
Google Analytics
Local Search Optimization
Consultations 
Graphics & Photo Retouching
Email Us using the form
Your privacy is guaranteed.
Or Call  631.725.5251
Mon.-Fri. 10am-4pm
Or Schedule your phone appt. online.
Click Here

Our Valued Clients Appreciate Our Work.